About Me
I am an obsessive modder that has learned what seems like a significant amount since I started modding in early 2020, but I know that I have barely scratched the surface. I love the modding community and this is my way of giving back.
In my travels across Modriel, I have become a scholar of a sort, with little knowledge and experience myself, but with a desire to learn as much as I can. I have encountered many masters, of Zorox and Aak (creation and guidance), and those that seem to understand Keizaal itself. (Oh, did I not mention I'm a giant dork?)
Nothing on this site will be information that I have created myself (unless I do add a review section someday), but hopefully this will become a resource that will be useful to many, whatever their experience level. I will always try to make sure I give credit to all the appropriate parties, but it is possible/probable that I will make mistakes. Please let me know so that I can correct any misinformation as quickly as possible.
Thank you DarkLadyLexy, Phoenix, Featherstone, Daralima, G'k, GamerPoets, Gopher, ForgottenGlory, zinghunt, Livelynightmare, Jonx0r, JoeMan3247, Althro, Sovn, Halgari, ElminsterAU, Mator, Darkfox127, Titansbane, JaySerpa, Joseph Russell, IceCreamAssassin, Xanza, Tate Taylor, Guitarninja, all the moderators at r/skyrimmods, so many mod authors, and so many others. Some have provided inspiration, others feedback, but all of you have helped me learn more about modding. (I have not intentionally left anyone out, but inevitably have; please do not be offended! There are so many wonderful people in this community that have inspired me and helped me, whether they knew it or not!)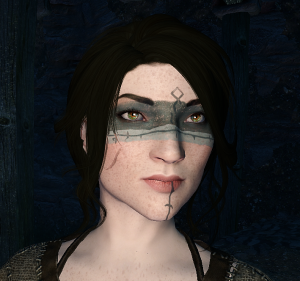 One of my previous characters, Nara, the Nord Dragonborn.
I want to make sure that I make something very clear: Guide creators, moderators, mod authors, YouTube creators, veteran modders, etc, are all amazing and none of us would even be here if it weren't for them. I am not trying to replace any of these wonderful people, nor am I trying to diminish what they do. This is NOT a "you are leading this community poorly" diatribe; this is an attempt to showcase their work and make it even easier to navigate for both new and older modders alike. I want to contribute in a way that will hopefully complement the already existing modding community. Please remember to endorse any mods you download/like and consider supporting mod/guide/video/tool creators on Patreon. I hope you all enjoy!